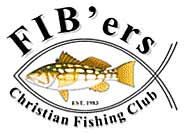 FIB'ers is a Christ-centered, inter-denominational fishing club. Established in 1983 by our founder Dean Gilbert. Our objective is to create a comfortable, fun, and relaxed environment in which Christian fishermen, their families and their guests may fish and enjoy Christian fellowship. We encourage family participation in all of our activities and welcome single men and women to our club. Our yearly activities include: saltwater charter boat fishing, private boaters tournaments, lake and river trout fishing trips and bay tournaments. We also take disadvantaged kids from Orange County out fishing or whale watching every year. In an effort to pass on our love of sports fising to our children, we have created a "Fib'ers Junior Division" that has it's own tournaments, charter fishing trips, and yearly awards.
FIB'ers is unique in that there is no formal membership. There are also no initial fees or yearly dues. All club expenses are paid from free-will donations.
Monthly Meetings are held on the third Thursday of the month at 7:00 PM (see the FIBer's Calendar of Events link).
Meetings are held the 3rd Thursday of each month at Newport Mesa Church in Costa Mesa, CA (see the Compass link).
* When making charter payments, please designate which trip in the comments section